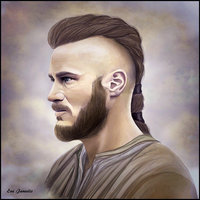 Lately, I have been receiving a lot of questions concerning Viking hairstyles, all inspired by Travis Fimmel's fancy haircut in The History Channel's Vikings. A recent blog post Ragnar Lothbrok's Viking Style by Nancy Marie Brown inspired me to delve deeper into the matter. The present article will quote the original sources on Norse male hairstyles during the Viking Age, then it will give a translation and interpretation of each, and finally it will offer a few thoughts on whether Ragnar's haircut in Vikings looks historically accurate.
We have two witnesses as for the hair of the Norsemen in early Middle Ages:
Leo the Deacon (born ca. 950). In his History, written about AD 989—992, Leo describes how John I Tzimiskes (Byzantine emperor) met Sviatoslav (prince of Kievan Rus) in July 971. Whether Leo himself was present at the meeting, is unclear.
Ælfric of Eynsham (also born ca. 950). In his Letter to Edward, written about AD 1000, partly in rhythmical alliterative prose, Ælfric speaks about English people who adopt heathen Danish customs, which he considers to be shameful.
Till the present day, there is only one edition of the original Greek text of Leo the Deacon's History: Leonis Diaconi Caloënsis Historiae Libri Decem: Et Liber de Velitatione Bellica Nicephori Augusti. Bonnae: Impensis Ed. Weberi, 1828. The Greek text was edited and translated into Latin by Carl Benedict Hase (a new critical edition was prepared in the 1970s by N. Panagiotakes but it was never published). On pp. 167—168 of this 1828 Bonn edition we read the following description of Sviatoslav:
Καὶ ὁ Σφενδοσθλάβος δὲ ἧκεν ἐπί τινος Σκυθικοῦ ἀκαθίου παραπλέων τὸν ποταμὸν, τῆς κώπης ἡμμένος καὶ σὺν τοῖς ἑτέροις ἐρέττων, ὡς εἷς λοιπῶν. τὴν δὲ ἰδέαν τοιόσδε τις ἦν· τὴν ἡλικίαν μεμετρημένος, οὔτε εἰς ὓψος παρὰ τοῦ εἰκότος ἠρμένος, οὔτε εἰς βραχύτητα συντελλόμενος· δασεῖς τὰς ὀφρῦς, γλαυκοὺς ἔχων τοὺς ὀφθαλμοὺς, τὴν ῥῖνα σιμὸς, ἐψιλωμένος τὸν πώγωνα, τῷ ἄνωθεν χείλει δασείαις καὶ εἰς μῆκος καθειμέναις θριξὶ κομῶν περιττῶς. τὴν δὲ κεφαλὴν πάνυ ἐψίλωτο· παρὰ δὲ θάτερον μέρος αὐτῆς βόστρυχος ἀπῃώρητο, τὴν τοῦ γένους ἐμφαίνων εὐγένειαν· εὐπαγὴς τὸν αὐχένα, τὰ στέρνα εὐρὺς, καὶ τὴν ἄλλην διάπλασιν εὖ μάλα διηρθρωμένος· σκυθρωπὸς δέ τις καὶ θηριώδης ἐδείκνυτο. θατέρῳ δὲ τῶν ὤτων χρύσειον ἐξῆπτο ἐνώτιον, δυσὶ μαργάροις κεκοσμημένον, ἄνθρακος λίθου αὐτοῖς μεσιτεύοντος. ἐσθὴς τούτῳ λευκὴ, οὐδέν τι τῶν ἑτέρων ὑπαλλάττουσα ἢ καθαρότητι. ὀλίγα γοῦν ἄττα περὶ διαλλαγῆς τῷ βασιλεῖ ἐντυχὼν, παρὰ τὸν ζυγὸν τοῦ ἀκατίου ἐφεζόμενος, ἀπηλλάττετο.
The fragment of text highlighted in red is the most important as for the hairstyle, but no less controversial as well. In a recent English edition of Leo the Deacon's work it is translated as follows: "He shaved his head completely, except for a lock of hair that hung down on one side" (Byzantine Military Expansion in the Tenth Century: The History of Leo the Deacon. Introduction, Translation and Annotation by Alice-Mary Talbot and Denis F. Sullivan with the assistance of George T. Dennis and Stamatina McGrath. Dumbarton Oaks, 2005, p. 199).
The problematic word here is θάτερον, which, quite paradoxically, can be translated both "on one side" and "on both sides". C. B. Hase in his first Latin translation preferred the latter variant: "Capite item erat admodum glaber; nisi quod ad utrumque latus cincinnus dependebat" (p. 157). Steven Runciman (A history of the First Bulgarian Empire. London: G. Bell & Sons, 1930, p. 213) when he sums up the description of Sviatoslav by Leo the Deacon, supports it: "From his shaven head fell two long locks".
My translation of the passage in question is as follows:
Sviatoslav came by the river, in a Scythian boat, wielding an oar and rowing with his companions, like one of them. To speak about his appearance, he was of medium height, neither tall nor short. He had bushy brows, light blue eyes, turned-up nose, thin beard (variant: bare chin), and thick, too lengthy moustache. His head was shaven clean. Some of his hair fell on one side (variant: on both sides) of his head, showing the high rank of his kin. He had a solid back of the head and a broad chest. His other limbs were proportionate. He looked gloomy and wild. He wore a golden ear-ring in his ear: it was decorated with two pearls and a carbuncle between them. He had white clothes that differed from those of his companions only by its cleanness. He talked to the monarch briefly about the truce, seated on the bench for oarsmen, and then departed.
In what ways can this text be helpful to determine what the Viking Age Norse hairstyles were? There are a few problems to be mentioned:
Prince Sviatoslav represented the third generation of Varangians in Russia. His father Igor and grandfather Rurik had Scandinavian names (Old Norse Ingvar and Rørik respectively), whereas his own name was of Slavic origin (composed of two roots meaning 'holy' and 'glory'). More than a century elapsed between AD 862, when Rurik first came to Russia, and 971, when John I Tzimiskes met Sviatoslav. How much of the Norse tradition did the prince actually keep? Is it appropriate to call his hairstyle (whatever it was) Viking, Norse or even Varangian?
About 20 years elapsed between the above-mentioned meeting and the time of Leo the Deacon's book's composition. It is not known whether he was present at the meeting personally or just retold the story.
For Leo, Sviatoslav represented Scythians. Leo's description of the Russian prince has some parallels with Priscus' description of Attila, which he could use as a model. Can we trust the minor details of his story such as hairstyle?
The actual meaning of the passage on Sviatoslav's hair is unclear: it might be interpreted as saying about a single lock of hair or two locks on both sides of the shaven head.
Taking into account all that, the witness of the Byzantine author seems to be rather shaky. Now to his Anglo-Saxon contemporary. Ælfric's text was published several times. Check the excellent work of Professor Mary Clayton: Letter to Brother Edward: A Student Edition. Old English Newsletter, 40 (3), pp. 31—46.
Ic secge eac ðe, broðor Eadweard, nu ðu me þyses bæde, þæt ge doð unrihtlice þæt ge ða Engliscan þeawas forlætað þe eowre fæderas heoldon and hæðenra manna þeawas lufiað þe eow ðæs lifes neunnon, and mid ðam geswuteliað þæt ge forseoð eower cynn and eowre yldran mid þam unþeawum, þonne ge him on teonan tysliað eow on Denisc, ableredum hneccan and ablendum eagum.
The text highlighted in red describes the hairstyle. Like Leo the Deacon's description, it is not unproblematic: the word ablered is a hapax legomenon, that is the word, which is attested only once in the whole of the Old English literature. It seems to be connected with the word blere 'bald' and its suggested meaning is 'bare of hair'.
My translation of Ælfric's text is as follows:
I also say to you, brother Edward, since you asked me about it, that you do something unrighteous abandoning the English customs, which your fathers held, and loving the customs of the heathens who did not give life to you, showing that you despise your race and your elders by the vices such as dressing yourself as a Dane, with bare neck and blinded eyes.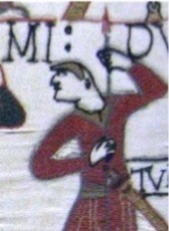 The Bayeux embroidery depicting the events of AD 1064—1066, which led to the Norman conquest of England, yields an interesting witness as for the bare necks. Norman warriors look like the backs of their heads are indeed shaven, which may endorse the interpretation of the word ablered in Ælfric. However, one should keep in mind that what later became Normandy was founded by Rollo in AD 911, a century and a half before the Battle of Hastings. The same question as the one regarding Sviatoslav arouses: how much of the original Norse tradition could these people keep by 1066? At the same time, Ælfric's testimony, if correctly interpreted, is the most valuable: he expressly points to the fact that the customs he describes are Denisc. People who were the source and the model for such practices believed they were Danes and were described as such by the Anglo-Saxons. But what exactly is Ælfric talking about? He mentions dressing, not hair (tyslian is a rare verb meaning 'to dress') and then points to the necks that are "bare of hair" (ablered). What is the logical connection between dressing and hair? It is to note as well that a bare neck is not the same as a bare back of the head. Any short haircut leaves the neck bare, one does not need to shave the back of the head for that.
Do all the three witnesses — Leo the Deacon, Ælfric of Eynsham and the anonymous authors of the Bayeux embroidery — represent one and the same tradition? My opinion is that they actually may do so. If we accept the "two locks" interpretation of Leo's text, we easily bring it into correlation with Ælfric: indeed, if one shaves much of the neck, the rest of the hair may look like two long locks of hair that fall on both sides of the head.
However, Leo might misunderstand what others told about Sviatoslav, Ælfric's ablered may mean something different or be a scribe's error and the Bayeux warriors' hairstyles may have no connection with the previous two sources. But even such a hypercritical analysis leaves us with a confirmation that at least Normans did have bare backs of the heads in the 1070s, when the Bayeux embroidery was created.
In view of the sources considered above, does Ragnar's hairstyle in The History Channel's Vikings TV series look historical? I don't believe so. His neck is not "bare", which is a prerequisite for any interpretation of the sources: whether Sviatoslav had a single lock of hair or two of them, his hair did not fell on the back of his head (note that Leo characterizes the back of his head as "solid", which also confirms that it was shaven). Ragnar's hair is braided, which also seems to be unlikely. At the same time, Ragnar's son Bjorn and many other characters of the series have haircuts that correspond to the Norman tradition: the backs of their heads are shaven (even though the fringe is not long enough to state that their eyes are "blinded").
Michael Hirst, the creator of Vikings, is reported to say: "In the end, how the f*** do you know what the Vikings looked like!". I agree. We don't know it for sure. Like much of the historical research, it's all about suggestions.
Images: Ragnar, by EvaJaneelis. All rights reserved. Bayeux embroidery, fragment, by Urban. Used under Creative Commons Attribution-Share Alike 3.0 Unported Licence.