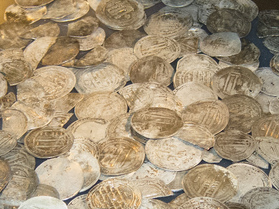 The Silverdale hoard and the Vale of York hoard were discussed a lot both in the press and the blogs. However, there are at least 10 more Viking hoards that have been discovered during the last 10 years, which you probably have not heard about.
1. September 2012, Bornholm, Denmark. A Viking Age treasure consisting of 152 silver Arab and Persian coins was found on the island of Bornholm in the Baltic Sea. The treasure dates back to 854 AD. About 20 coins are intact, while others are cut into pieces, which is very typical for the period, since the payment was based on the weight of silver, not on the quantity of coins. The total weight of the treasure is about 250 grams. The first coins were found by an amateur archeologist. The museum of Bornholm conducted subsequent excavations.
2. September 2012, Strandby, Denmark. Sixteen year old amateur metal detectorist Michael Stockbro Larsen found a Viking hoard consisting of 365 items including hack silver, different types of coins and jewelry. Very interesting are small and thin coins from the age of Harald Bluetooth weighing only about 0.2 grams and decorated with lovely motifs. The lucky metal detectorist told that people often made fun of him because of his passion, even his friends finding him "a bit nerdy".
3. April 2012, Gotland, Sweden. On a field near Stale in Rone parish a copper barrel was discovered with a leather purse inside that contained more than 6,000 Viking Age silver coins. In order to preserve the find, the barrel was excavated together with a piece of soil surrounding it. It was sent to Visby in a plaster cast to be X-rayed. One of the cleaned coins was reported to be from Cologne and dated to 1043 AD. In 1838 another Viking treasure had been found on the same field, which consisted of 5,922 coins.
4. December 2011, Hattula, Finland. A Viking hoard of 20 coins of German origin about 1,000 years old was discovered by two metal detectorists on the Vesunta estate on the territory of the Finnish town Hattula near Hämeelinna.
5. May 2011, Furness, Great Britain. The hoard found in Cumbria consisted of 92 silver coins and artefacts, including several ingots and one silver bracelet. It was made by a local amateur archeologist. Among the items were two very rare Arabic dirhams. The treasure is thought to have been buried around 955 AD, at the time when the Vikings established their presence in the north of England. It is the largest Viking Age treasure ever found in the area. Previous Viking discoveries in Cumbria include the Cumwhitton burials.
6. September 2010, Harju County, Estonia. Anonymous treasure hunter discovered a Viking Age treasure of 1,312 silver coins, as well as a hatchet and a knife. The items were dated to the 11th century by the experts from the Estonian History Museum. Most of the coins were from Germany but the hoard also included British, Danish, Swedish, Hungarian, Arabic, two Czech and one Italian coin. The silver was discovered along with the fragments of a clay pot in which it had been buried.
7. April 2009, Ringe, Denmark. Amateur archeologist Benny Pennerup discovered in a field a hoard of 41 coins, a silver bracelet and a half of a highly decorative Thor's hammer. The find is at least 1,000 years old. Most of the coins are Islamic, but some of them are from territories now belonging to Russia.
8. April 2008, Arlanda Airport, Sweden. The treasure trove discovered near Sweden's main international airport included 472 silver coins. The hoard was dated to about 850 AD. The coins were mostly from Baghdad and Damascus, the oldest ones being from Persia. The most of them had been cut into pieces. The discovery contains more coins than the only other known Viking hoard from the period that had been discovered in 1827. The date of the hoard is very early, since Vikings started to import eastern coins in about 800 AD.
9. September 2007, Gotland, Sweden. A treasure trove consisting of 69 coins dating from the late 900s and early 1000s were found by a gardener on his vegetable patch. The coins were from what is now England, Germany, Ireland, Iraq, and Uzbekistan.
10. October 2006, Gotland, Sweden. More than 1,000 silver coins were discovered accidentally by brothers Edvin and Arvid Sandborg who helped their neighbor with yard work. Archeologists who excavated the site also found several silver bracelets believed to date to the 10th century.
Photo courtesy Thomas Quine. Used under Creative Commons Attribution 2.0 Generic Licence.