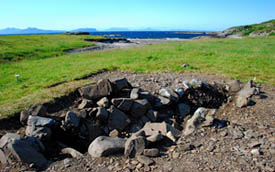 Stunning archaeological find was made last month in Scotland. A Viking ship burial, which is about 1,000 years old was unearthed on the Ardnamurchan peninsula. It was the grave of a chieftain buried in a rather small vessel (about 16ft) as compared to famous Gokstad or Oseberg ship burials in Norway or Sutton Hoo grave ship of the Anglo-Saxon king Raedwald in Suffolk. However, the Ardnamurchan find is of utmost importance. It is the first intact Viking ship burial find on the British mainland ever. It yielded the remains of a high-ranking warrior with a shield on his chest, his sword and spear by his side. The sword hilt was decorated. The burial also contained axe, knife, bronze ring pin from Ireland, whetstone from Norway, tip of a drinking horn and several iron fragments that are still to be identified. About 200 rivets were also found: all that remained from the boat. It had been filled with rocks, which seems to be on purpose.
The artefacts and preservation thrilled the archaeologists. Earlier, fully intact Viking graves in such a condition were found at sites on Orkney. Dr Colleen Batey, from the University of Glasgow believes that the Ardnamurchan ship burial dates to the 10th century. Fragments of an arm bone and teeth belonging to the Viking chieftain may allow analysis of radioactive isotopes. If so, it will be clear where he came from. Fragments of wood found on the rivets may reveal what trees were used to build the boat and possibly where it was built.
Photo: Ardnamurchan ship burial archaeological site. Courtesy Jon Haylett. Used under the Creative Commons Attribution 3.0 Unported License.