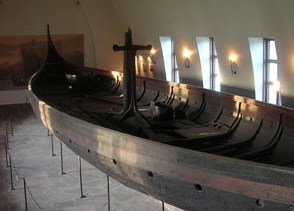 The Gokstad ship is a Viking ship excavated in 1880 not far from Sandefjord (Vestfold, Norway) by Nicolay Nicolaysen. The ship was buried in a trench. On board, it had a burial chamber of a wealthy chieftain. Above a large mound was raised. Along with the 24 meters long ship, its oars, pulleys, yards and a ladder were discovered, as well as a woolen cloth and ropes that might have been a sail. The Viking grave also included three smaller boats, six beds, a tent, big bronze cauldron, various kitchen utensils as well as a sledge and riding equipment. Among other burial gifts a hunter's rucksack and a gaming board have to be named, as well as remains of horses, dogs and even a peacock. The Gokstad ship was preserved due to the thick layer of blue clay in which the trench was dug. However, the prow and stern-posts that raised above this layer were completely lost and we have no idea as for how they might originally look. Remnants of 32 shields, painted yellow and black, were found along each board.
Beside the mast and the deck, the Gokstad ship was constructed of oak. According to dendrochronological dating, the timber was felled around 890. Unlike the Oseberg ship, it was very seaworthy. Even though it was believed that Vikings could only sail running before the wind, replicas of the Gokstad ship demonstrated that it could navigate Beam Reach and even Clause Hauled. The anchor was discovered but soon after the excavation the iron disintegrated, with only an oak stock remaining, which is 9 feet length. The anchor of the Ladby ship, which was better preserved, has the same construction. No thwarts for the oarsmen were found, which may indicate that they sat on their sea-chests. Neither weapons nor silver or gold valuables were discovered by archaeologists, which almost certainly means that the Viking burial ship from Gokstad was looted by grave robbers.
The remains from the Gokstad ship were reburied in 1928 but the mound was re-opened in September 2007. The person buried in the Viking ship was suggested to be Olaf Geirstad-Alf, ruler of Vestfold.
Photo: The Gokstad ship. Courtesy rwhgould. Used under the Creative Commons Attribution-Share Alike 2.0 Generic Licence.