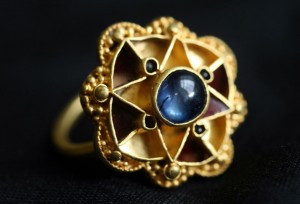 Last July the Yorkshire Museum raised £35,000 to purchase a unique Anglo-Saxon gold and sapphire finger ring. It had been found in April 2009 by a metal detectorist Michael Greenhorn, a railway technician who is also member of the York and District Metal Detecting Club. The find was reported to the Portable Antiquities Scheme and declared treasure.
Sapphires were associated with high status like royalty, upper nobility or bishops. The find is so rare that there is literally nothing to compare it with, so that dating of the ring represents some difficulty. The gold beading is characteristic for the Viking period but red and blue glass set in gold is found in earlier Anglian jewelry. It is possible that at some stage sapphire was used to replace blue glass to create a unique and expensive ring for the archbishop of York, one of the earls of Northumbria or even a king. The museum launched an investigation to find stylistic parallels in other pieces of Anglo-Saxon jewelry and narrow down the age range. No less interesting is the geological origin of the sapphire itself. It may have come from India or Sri Lanka.
The only other sapphire found in a jewel of the Anglo-Saxon period is the coronation ring of Edward the Confessor. The gemstone from this ring is now part of the Imperial State Crown of Great Britain, at the center of the cross on top of the crown.
The gold used for the ring is of a very high standard. It is an alloy of 90% gold, 8% silver and 2% copper. It weighs 10.2 grams.
Hopefully, the Yorkshire Museum will reveal more concerning this rare find in the near future.
Photo: © independent.co.uk