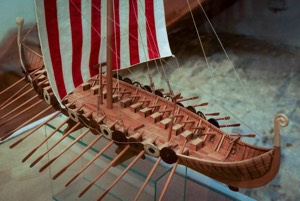 The 4th season of The History Channel's Vikings started a few days ago. The TV series grew so popular that this year it will have twice as many episodes as in the previous seasons, with additional ten in fall, after a summer break. Many things in the Viking Age epic by Michael Hirst stir up controversy, like Ragnar's fancy hairstyle or the runic inscription on the so called sword of kings that the mighty konung came to own. But there is no doubt that the creators of the series found themes that deeply resonate with the modern Westerner's soul.
To be sure, one of these themes is spectacular violence. Culture gave the West its amazing progress in all things humane. However, culture did suppress the physical urge to throw oneself upon one's enemy and enjoy the vengeance. Battle scenes in the Vikings awake something medieval in me, and it has nothing to do with scriptoria and cathedrals.
Not only men but also women partake in this mesmerizing bloodshed. Female Vikings characters do not do what typical representatives of the chivalric romance are entitled to do: that is, to merely embody the ideal of courtly love. Here women do things that often far surpass what men do as for physical courage, bloodthirstiness and treachery. This is that stage of European history that precedes times when feudal values were imposed on all as the ideal ones. This is the age when all people are more or less equal, but not in the modern line of understanding equality. It is based on the sword, not on the rights.
Also men in the Vikings are far from being chivalrous. A meme that I see time and again on the internet, in connection with photos of Travis Fimmel as Ragnar, actually says: Why have a knight in shining armor if you can have a Viking in bloody chainmail? Male Vikings characters go straight to what they want and they take it by force or by craftiness. This is the survival of the fittest. This is the world where individualism is not a conception, is not a choice. It is a sheer necessity to live on and to leave posterity.
All this is a play on the image of a 'noble barbarian' known since the time of the ancient Greek tragedies, which is predictably attractive for a 'cultured' spectator, who wants to be as wild but is restricted by thousands of interdictions of the 'civilized world'. Even though I feel it is all devised to seduce me, I am happy to be seduced, waiting for the next episode. Are you?
Photo: Viking ship model. © The Viking Rune, all rights reserved.