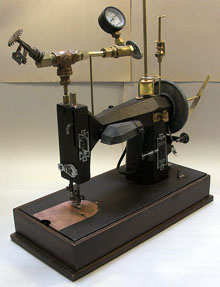 No, I don't mean brand in the archaic sense of this word, which once could designate sword or torch :) Searching for all kinds of information about the Vikings, I constantly hit on various companies that have the same name. Indeed, the word Viking turned to be very attractive as a brand. People trust it and feel confident about products and services, which are associated with the Viking culture and values in their mind. Being very inquisitive by nature, I discovered a few interesting facts about some Viking brands, which I would like to share with you in this post.
Husqvarna Viking is a Swedish company that was originally founded as a royal arms factory in 1689. However, in the early 1870s, the business struggled to fill orders for guns, and the board voted to manufacture sewing machines instead!
Viking Pump was founded on a unique pump principle invented by Jens Nielsen, who had emigrated from Denmark to Iowa in 1870. The founders of the company likened the first internal gear pump to the notion that the Vikings were the first European explorers of North America.
The Viking Group traces its roots back to the 1880s when Emil Tyden, a Swedish immigrant, developed an innovative railroad car seal in Chicago. To produce his new boxcar seal in mass, Tyden went on to create one of the world's first automation systems – fully a decade before Henry Ford mass-produced automobiles.
Viking Life-Saving Equipment was founded in 1960 in Denmark after the terrible loss of life through drowning suffered by merchant sailors during the Second World War. Today it is a global enterprise with a comprehensive range of safety and rescue products.
Viking River Cruises operates the world's largest and best fleet of deluxe vessels. It offers European river cruises, China river cruises along the Yangtze, and Russian river cruises. It is featured in National Geographic's The 10 Best of Everything.
The range produced by Viking Range Corporation in 1984 was the first such range to ever be submitted to the American Gas Association laboratories for certification. Because no such product had ever existed or been tested, AGA approval involved over a year of extensive testing and evaluation, including the creation of several new testing criteria.
Photo courtesy Bekathwia. Used under the Creative Commons Attribution-Share Alike 2.0 Generic Licence.