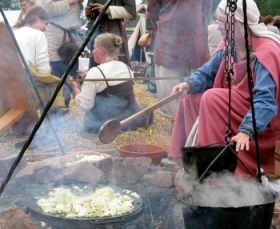 Climate, lifestyle and isolation: these three factors largely shaped Viking food. Lengthy, dark and cold winter has always been and still is one of the basic facts of life in the Nordic countries that have to be dealt with seriously. Surviving through the winter depended on food supplies stored during the short growing season. Lack of plants due to specific climate is the reason why traditional Scandinavian cuisine still includes only small amount of vegetables. Viking lifestyle was another reason that made Norsemen to learn early how to preserve their meats and fish. Ship was a Viking's home, and smoked, dried and salted foods were usual supplies of Norse warriors during their prolonged raids. Finally, isolation was one of the major factors that influenced the cuisine of Scandinavia. Industrialization was late, and the conservative traditions of rural population have little changed since the Viking Age in many places.
Several modern Scandinavian dishes are basically the same Viking food yielded by sea, fresh-water lake and earth. Norwegians still eat marinated and broiled whale steak. Swedes may like thinly sliced smoked horseflesh. However, Iceland perhaps preserved the largest amount of Viking food traditions, since isolation of this country in history has been next to exceptional.
Hákarl, fermented shark, is hardcore Norse food that continued from the settlement of Iceland in the 9th century. It is prepared by gutting and beheading a Greenland or basking shark. The shark itself is poisonous when fresh, but may be consumed after complex processing. They put it into a shallow hole, and cover with sand and gravel. They put stones on top of sand, and the stones press away the fluids from the shark, which ferments there for 6 to 12 weeks. Then the shark is cut into strips and hung to dry for a few months more. Brown crust, which develops during this period, is removed before the dish is cut into small pieces and served. Hákarl has a very strong ammonia smell, similar to some cleaning products. People who are new to it often vomit involuntarily when they taste it for the first time.
Another characteristic Viking food product is skyr. It was brought to Iceland from Norway by the first settlers but has survived only in Iceland. Skyr is a cultured dairy poduct, somewhat similar to strained yoghurt. Traditionally, it is served cold with sugar and cream. The whey left after making skyr was made to go sour and used to store meat. It is interesting that one of Icelandic Yule Lads is named Skyrgámur (Skyr-glutton).
In Viking longhouses meat was cooked in the holes dug in the floor, which were used as earth ovens. In the center of the house there was a long fire. They placed meat in holes with hot embers and covered the holes tightly. For boiling, wooden churns were used. Hot stones were placed into the liquid and made it boil. Vikings ate their food from their lap, sitting on their beds that lined the wall of the longhouse.
To cook traditional Viking food is to re-create the glorious past of the Norsemen. Even though Scandinavian cuisine is relatively unknown, it is unique and worth discovering.
Photo courtesy henribergius. Used under the Creative Commons Attribution-Share Alike 2.0 Generic Licence.