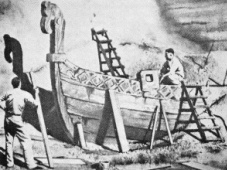 1. Vinland Map. The so called Vinland Map is a medieval style map of the old world. It is said to date to the 15th century, when it was purportedly redrawn from a 13th century original. In the western Atlantic it has a large island identified as Vinland, which is the name given to an area in North America by Leif Eriksson who discovered it early in the 11th century. The Vinland Map came to light in 1957, when it was offered for sale to the British Museum, which turned it down because of its lack of provenance and non-original binding. Later the Vinland Map was bought by Paul Mellon who donated it to Yale University. In 1996 it was reported that insurers valued the map at $25 million. Even though the authenticity of the Vinland Map has enthusiastic supporters, the most of the researchers believe it to be a modern hoax.
2. Kensington Runestone. The runestone was found in 1898 in the township of Solem, Douglas County, Minnesota, and named after the nearest settlement, Kensington. According to Swedish American farmer Olof Öhman, it was lying face down and tangled in the root system of a stunted poplar tree. The stone is about 30 x 16 x 6 inches and weighs about 200 pounds. It is covered with runes on its face and side. The inscription suggests that the Vikings reached the middle of North America in the 14th century. The Kensington Runestone was repeatedly analysed by runologists and linguists and dismissed as a hoax. It is currently on display at the Runestone Museum in Alexandria, Minnesota.
3. Thorwald's Rock in Hampton. Near the Tuck Museum on Park Avenue in Hampton, New Hampshire, there is a circular well covered by a metal grate. Inside of the well there is a rather large rock covered with slashes, which is believed to once have marked the grave of Thorvald, brother of Viking explorer Leif Eriksson. The Saga of Erik the Red says that Thorvald Eriksson, during his exploration of Vinland, stopped at a beautiful land. Attacked by Indians, Thorvald was shot through the heart by an arrow and was buried there. In 1902 Hampton district court judge Charles A. Lamprey wrote to the local newspaper claiming that a stone that had been on his family's land since 1600s marked Thorvald's death site. Thorwald's Rock is now considered to be a hoax.
4. Leif Eriksson Runestone from Nomans Land. In November 1926 Joshua Crane, who then owned Nomans Land island, Massachusetts, spotted some lettering on a large rock near the water's edge. The same inscription was noticed by Captain Wood, who worked as caretaker of the island. It was photographed in 1927 by Edward F. Gray, a writer who researched Norse voyages to North America for a book, which appeared in 1930. Subsequent efforts to decipher the runes concluded that the first two lines read, "Leif Eriksson, 1001." The inscription has grammatical anomalies and the mixture of runes from different periods. The mixture of runes with Roman numerals seems no less suspect. The consensus is that the stone is actually a hoax.
5. Viking Ship in Hawaii. April 1st, 1936, the Honolulu Star-Bulletin published a story about a Viking ship discovered in Hawaii, accompanied by a photo of the rare find (see above). However, no such thing has ever been discovered there. It is doubtful whether Vikings could in fact reach Hawaii on their longships.
6. Wisconsin Viking Horse Skull. In 1935 during excavations of mounds dating to 500-700 AD near Spencer Lake, in Burnett Country, along with many other finds archeologists discovered a horse skull. This was something unheard of, since horses are not native to this hemisphere. The find was believed to prove that Vikings both discovered North America and settled far inland at a very early date. For many years the find was not challenged. However, in 1962 one of the archeologists, Ralph Linton, published a confession of a certain "Mr. P." who in 1928, as a teenager, had buried the skull in the mound.
7. Frank Cowan Viking Literary Hoax. In 1867 Frank Cowan, who was once a secretary to U. S. President Andrew Johnson, wrote and published a literary hoax that claimed the discovery of an Icelandic Christian woman, who had died in 1051 AD, below the Great Falls of the Potomac River. The hoax was intended to raise sales of a Georgetown newspaper owned by Cowan's friend Thomas Birch Florence. It indeed caused the sales to skyrocket.
8. Viking Ship Museum Hoax. April 1st, 2007, the Viking Ship Museum Roskilde published a press release, which stated that Ireland has claimed the handing-over of the wreck of Skuldelev 2, the remains of a Viking ship on display in museum, because of the fact that the ship was built in 1042 AD in Ireland. The press release further stated that after long and secret negotiations the National Museum in Dublin and the Viking Ship Museum reached an agreement: a true copy of Skuldelev 2, Sea Stallion of Glendalough, which was planned to perform a voyage from Roskilde to Dublin in summer of the same year, had to be handed over to Irish authorities. To be sure, Sea Stallion came back to Roskilde safely and it was all a hoax.
9. Oklahoma Runestones. It is a group of stones with runic or rune-like inscriptions including Heavener Runestone, Poteau Runestone, Shawnee Runestone and Spirit Pond Runestone. Heavener inscription, the most notorious of the group, probably has the word GNOMEDAL in the Elder Futhark runes. The problem is that this type of runic writing became obsolete long before the Viking expeditions to North America.
10. CBA Hoax. April 1st, 2009, the Council for British Archeology published an article, which stated that a new find from the far north of Scotland suggests that Vikings did in fact wear horned helmets. Along with a detailed description of the find, the article featured an interview with the excavation director Ren Lögn who said, "It is clear that the helmet was worn with one horn up and one down. Equally important is the fact that it was worn fore and aft not side-to-side."