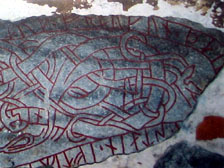 Last fall an area near a church outside Stockholm, Sweden was excavated in order to lay some cables. The workers dug out some rocks, which were left on the plot. One of these rocks covered with mud and earth was thought to be quite fitting for use as a church parking lot border. Week after week rains cleaned the surface of the rock until finally it became clear that this is actually an ancient runestone. The discovery of a 1,000-year-old runic inscription in April of this year thanks to rainy weather was a significant event for the local community.
Lars Andersson, Stockholm County Museum expert on runic inscriptions, said, "To read something that nobody else has read for 1,000 years is almost a religious experience". The rock with a runic inscription is thought by experts to be a gravestone that dates back to the Viking Age. It once helped to mark the lot's boundaries.
Runestones in Sweden are particularly prevalent in Uppland area. Most surviving runestones were raised in the 11th century, when the king of Sweden became Christian, and they were made by people who wanted to show that they also adhered to the new faith. Fragments of runestones in Sweden are sometimes found as parts of buildinds' walls and other constructions, as the picture above illustrates.
Photo: rune stone on the corner of Kåkbrinken and Prästgatan, in Gamla Stan, Stockholm. It says something like "Torsten and Frögunn had this stone erected over their son." Courtesy mararie. Used under the Creative Commons Attribution-Share Alike 2.0 Generic Licence.