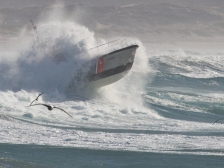 This happened on the 11th of March, 1984. Around 11 pm, 5 km east of Stórhöfði on Heimaey (the largest of the Westmann Islands, an archipelago off the south coast of Iceland), the fishing boat Hellisey VE 503 rolled over. The emergency raft was unreleasable. Three out of five fishermen were able to climb up on the upended keel of the boat, but it sank about 45 minutes later. The air temperature was -2° C, the sea was as cold as 6° C. One of the remaining three men died almost as soon as he got into water. The two others, Guðlaugur Friðþórsson, steersman, then 22 years old, and Hjörtur R. Jónsson, captain, 25 years, swam side by side and tried to keep talking. Very soon Guðlaugur realized that he was alone. However, he remained calm and concentrated. He headed to the west, where the lights of Heimaey were visible. In water that cold he had to die in 20 or 30 minutes. It is unbelievable, but he swam about 6 hours to survive.
Guðlaugur was dressed in jeans, shirt and sweater, with nothing on his feet. He did not know that wet clothes draw heat from the body 20 times faster than dry ones. However, he knew well that low body heat leads to mental confusion, irregular heartbeat and death. The steersman talked all the time with birds around him in order to keep his wits. On the way he passed within three hundred feet off a boat without being noticed. When Guðlaugur finally reached land, his ordeal did not end: he was against a cliff and had to go back into the sea.
He swam again, this time along the cliffs. When he finally climbed out to the shore, he realized that he was on a broad lava field. Since he was barefoot, he lost a good deal of blood because of the sharp volcanic glass. In a tub full of water for sheep, he broke the inch-thick ice with his fist and drank. He had to go 2 km in wet clothes until he reached a settlement on the 12th of March at 6:55 am. Doctors were unable to find Guðlaugur's pulse when they examined him at the hospital. His temperature was too low to be registered by the usual medical thermometer and is reported to be at least as low as the minimum 34° C. However, he survived in good health.
To be sure, this heir to Vikings did not yield to death primarily because of his extraordinary courage and determination. However, a startling fact was discovered by the researchers from the University of Iceland: Guðlaugur's fat is almost like seal fat. It is more solid and two or three times thicker than human fat. So I can't help but wonder whether the Icelandic folktales about selkies are actually downright truth.
Photo courtesy Michael "Mike" L. Baird. Used under the Creative Commons Attribution 2.0 Generic Licence.