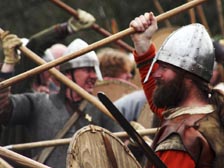 Professor Mark Jobling of Leicester University, who now seems to be the ultimate authority on Viking bloodlines in northern England within the national project to create a genetic map of the UK, has launched a new exciting study. Men whose fathers' fathers were born in Cumbria, Lancashire, Cheshire, North Yorkshire, Durham or Northumberland are wanted to take part in it.
Special attention is paid to people with such local surnames as Borrowdale, Branthwaite, Haygarth, Oldcorn, Satterthwaite and Thornthwaite. However, all eligible volunteers will be sent DNA sample kits in order to determine if they have Viking heritage. Professor Jobling formulated the aim of the study as follows: "What we want to end up with is a map of the north of Britain showing where the Vikings were concentrated and distinguishing between the Norse Vikings who landed in the west and the Danish Vikings to the east." The research associate Dr Turi King comments: "The East Midlands is a particularly important area as it formed the heartlands of the Anglo-Saxon kingdom of Mercia and large parts also fell within the area of the Danelaw, an area dominated Danish Vikings during the 9th and 10th centuries."
How Vikings affected this area is evident in such placenames as Flimby, Birkby, Crosby, Allerby and Dovenby, but the effect on genetics thus far has been less clear. The initiative is part of The People of the British Isles project headed by Professor Sir Walter Bodmer at the University of Oxford. The recently launched research on Viking DNA in Northern England is funded by the Wellcome Trust and forms part of the grant "What's in a name? Applying patrilineal surnames to forensics, population history, and genetic epidemiology." It will help to discover the genetic impact of the Angles, Saxons and Vikings on present day Britain.
It is important that some of such genetic variation contributes to inherited differences in susceptibility to cancer and heart disease. The study will continue until late 2010, after which the results will be published.
Photo courtesy jriro2000. Used under the Creative Commons Attribution 2.0 Generic Licence.