The word valknut is a neologism: it is formed in modern times through combination of ON valr, 'the dead' or 'the slain' and knut, 'knot'. Valknut is a Viking symbol of three interconnected triangles. The triangles may be joined in two ways: either as Borromean:


or unicursal:

Note that other types of valknuts, such as closed three-link chain, never occur in the original Viking ornaments. One should keep that in mind when using the valknut in Viking tattoos or runic tattoos, since only the above two designs are genuine Viking valknuts. Consider the Borromean triangles type, which occurs on the Stora Hammar rune stone.

Here above the valknut we see a raven, Odin's symbol. Below the valknut is probably a burial mound. A dead warrior is put there by someone with a spear and accompanied by another raven. The spear is probably Gungnir, Odin's weapon. The other sign of Odin's presence is a warrior hanged on a tree to the left of the mound. All the symbols around the valknut, which is in the central position here, point to death and to Odin as a god of slain warriors.
The unicursal type of valknut (which can be drawn with one stroke) appears on Tängelgarda stone: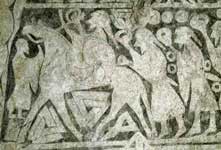 Other instances of the valknut in Viking ornaments are Lärbro stone, River Nene ring and a bedpost found on the Oseberg ship.
However, knot of the slain is not the only possible interpretation of the valknut. It is also called Hrungnir's heart. This name is based on a description found in the Prose Edda:
"Hrungnir had a heart that was famous. It was made of hard stone with three sharp-pointed corners just like the carved symbol Hrungnir's Heart (hrungnishjarta)."
The original meaning and function of the valknut is not wholly clear. The number three is a very common magic symbol in many cultures. However, in Scandinavian context three multiplied by three might designate the nine worlds, which are united by the Yggdrasil tree. In modern times Valknut, like Triquetra and Horn Triskelion, is often interpreted as a symbol pointing to heathen convictions.
Copyright notice: Valknut images above are by © The Viking Rune. Images of Stora Hammar and Tängelgarda stones are public domain.