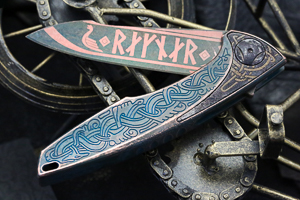 The Viking Rune is starting its own line of Viking themed products. Our first project is a high-quality custom knife Ragnar. Relic style hand-made customisation is applied to each piece individually. The order form is below. Price: 1390 US dollars. Payments via PayPal.
UPDATE: SOLD OUT
Amazing quality: awesome custom knife with Titanium handle and M390 steel blade.
Perfect usability: it is not a plaything. You will enjoy using this custom knife created to perform.
Runic design: the knife bears Old Norse inscriptions in long branch Younger Futhark runes.
Hand-made customisation: laser engraving, anodising, oxidizing, sand, stonewash, cuprum style and relic style.