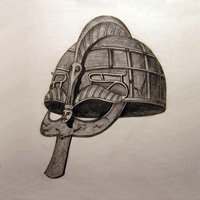 This web site is on Vikings and for Vikings. Warriors and traders from Scandinavia reached as far as North America, leaving lasting marks of their presence everywhere. In battle, Vikings feared nothing, eager to join Odin in his hall in heaven. They knew that Valkyries chose who would die and served the fallen in Valhalla. Norse runes and symbols speak an important message for those who abide by the Viking Age values. Welcome on board.
Convert Letters To Runes With Our Online Converter
Our Rune Converter is based on a complex algorithm that substitutes runes for the letters of the modern English alphabet. Up to now it remains the only such online tool supporting five systems of Germanic runic writing: Elder Futhark, Anglo-Saxon Futhorc, Long Branch Younger Futhark, Short Twig Younger Futhark and staveless runes. This tool, into which we invested a lot of time, effort and money is made available free for all our visitors. Writing in Viking runes has never been that easy!
Go Social With The Viking Rune

Members of our community at facebook.com/the.viking.rune post photos, links, discuss the latest archeological finds and social events related to Vikings and Scandinavian heritage.
Follow us on Twitter. Interesting content, useful retweets from other users and more. Our community is growing, join us! A great place for Vikings to be assembled.
Create a Viking Motto in Old Norse
Many people would love to have a motto in Old Norse, language of the Vikings. Over the last few years we received dozens of requests to translate such or such catchy phrase into Old Norse in order to use it as a slogan or motto. Even though we have been unable to help everyone, we designed a complex algo that allows to create Viking mottos or slogans online through a user friendly interface according to five grammatical patterns. The number of possible combinations is huge, so it is up to your creativity which elements to choose.
Viking T-shirts and Gifts in Our Online Store
A Viking T-shirt from Vikings Gifts with Norse or runic design is a fine way to emphasize your Nordic or Scandinavian ancestry, Norse heathen convictions or appreciation of values characteristic for Vikings of the heroic age. Is your friend Viking and proud? Quality Viking apparel, drinkware, bottom coasters and more: a perfect solution for a gift. Designs include Elder Futhark Magic Runes, ancient Scandinavian symbols Aegishjalmur and Runic Compass as well as other themes and motifs based on the ancient Norse artefacts.