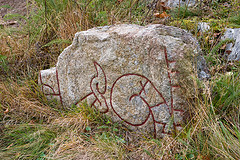 You cannot translate anything into runes, full stop. Runes are not a language, they are signs devised to represent the sounds of a language, the same way as letters. You also cannot represent anything in runes correctly. No kind of correctness standard may be applied to the Viking Age runic inscriptions, at least in the current state of research.
Lewis Carroll while travelling in Russia liked the word защищающихся (meaning 'those who protect themselves' as he noted in his diary) and wrote it down in English: zаshtshееshtshауоushtshееkhsуа. The Russian word has 12 letters, the English one as many as 30. Did Carroll write it correctly? There are two ways to check it: a) finding a universally accepted chart of correspondences between Russian and English letters; b) showing the word to some Russian guy and asking him if he can understand it.
Neither of two is feasible for Old Norse. The Viking Age did not produce any accepted chart of such correspondences (even between the sounds of the Old Norse language and runes, which would be spelling, let alone the modern English sounds or letters and Viking runes, which would be transliteration). Everyone carved runes as he or she deemed truly good and right. The only criterion of correctness was the fact that people could actually understand what the inscription said. This method no longer works, since all native Proto Norse and Old Norse speakers are long dead.
Now imagine some Russian guy who shows up and says: "Hi, my ancestors were Germans who emigrated to the US and then to Russia. To honor them I want to tattoo the word защищающихся on my back / to engrave onto my bike / to carve it on my bat. Which letters should I take, those used in the US, clean and simple, or those used in Germany, with umlauts, bells and whistles? Keep in mind that I have to write it correctly (because I want to tattoo it on my back / to engrave onto my bike / to carve it on my bat). And don't forget to quote your sources (I already got a couple of answers in other places, they all differ, so I want to check)".
What would you say? The obvious answer is: study either US English or German and write something in English or German with alphabets devised for those languages. Leave that zаshtshееshtshауоushtshееkhsуа thing alone. It's ugly.
But studying languages is painful. That's why the guy from Russia says: "Translate the word защищающихся into English for me. Keep in mind that I have to write it correctly. And don't forget to quote your sources." Now you try to explain that the form защищающихся is the genitive case, and no such thing as cases exists in English. So there are some options more or less corresponding to the original like "of those who defend themselves" and "about those who defend themselves" but there is no single correct version (why on earth would he need the genitive?). The guy begins to think that you fool him.
That's what I feel when I get on my Facebook page or here in the comments questions like this: "I am of Norwegian / Swedish / Danish descent. I want to translate the word victory / glory / ivory into runes. Which set of runes should I use? Keep in mind that I have to write it correctly, because…" you know.
Even though finding Old Norse words for victory / glory / ivory is not that difficult, my general advice is to keep them in standard Old Norse orthography in Roman letters. The point is that contrary to the common misunderstanding, Younger Futhark runes were not meant for the standard Old Norse, as we know it in Eddas and sagas. Viking Age runic inscriptions reveal an older form of the language, in many respects significantly differing from the later texts. A large amount of runic material is understood only tentatively. The truth is we cannot establish a complete grammar and vocabulary for the language of the Viking Age Younger Futhark runic inscriptions allowing to translate coherent texts from other languages into it. As for the Elder Futhark, it isn't suited for Old Norse inscriptions altogether, as I wrote in my short Guide to Writing in Runes.
What might be the practical advice for those who still wish authentic runic texts as tattoos / carvings / engravings? The best option is to search through the existing Viking Age runic material, which is already interpreted with a satisfying degree of certainty, and use it as is.
In the posts to follow I'll try to collect such fragments of runic texts, which may be of interest for use by us modern people.
See also:
How to Write a Name in Runes for a Tattoo
How to Write an Authentic Runic Inscription
Should I Write in Runes Phonetically?
Photo: runestone Sö 243. Courtesy Kenny_lex. Used under Creative Commons Attribution 2.0 Generic Licence.