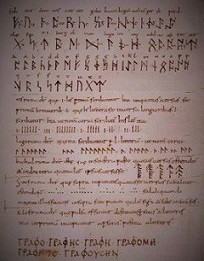 The idea of writing phonetically is probably the first thing people hear when they delve into the problem of having a runic inscription. Vikings used runes phonetically, they say, so should we, if we want to get something authentic, do the same?
A few points have to be cleared up with respect to the way runes were used in the early Middle Ages. Where does the whole notion of 'writing phonetically' come from? This is simply another way to state that Old Norse inscriptions carved with the Younger Futhark runes did not have a stable spelling.
This is not something unique or characteristic for the Viking Age Old Norse language. Spelling variants are found throughout the ancient literatures. Even today we have orthographical differences between British English and US English. Any writing system develops from a relative lack of uniformity to a growing number of generally accepted rules. Runes are no exception. Roman letters—used for modern English—went through the same stages.
An authentic runic inscription should not deviate far from the original ways of using runes, agreed. But this does not mean that runes should be written 'phonetically'. Actually, it is not possible altogether. Let us consider a couple of practical examples.
Case A. We have to write an Old Norse saying with the Younger Futhark runes. Classic sagas were composed, or at least written down, in 1200s. These texts are the basis for our knowledge of the Old Norse language. Viking Age runic inscriptions are also in Old Norse, but a few hundred years earlier the language was not the same. There were regional differences as well. If you have a quote from a saga and want to get a 100% authentic runic inscription, you should: a) have a Norseman, who lived during the Viking Age, say it the way he used to speak Old Norse in his time; b) have him spell it in runes the way he would have done it in his time. All the other ways would not be 100% authentic. Reconstructing possible spelling requires years of research and even then it is a mere guess. Solution? Keep the standard Old Norse spelling.
Case B. We have to write an English saying in runes. The runes were invented for the languages that existed during the periods when these runes were in use and were adapted for the respective phonological systems. Did you ever compare the English and Old Norse phonology? Believe me, the number and character of the phonemes is not the same. For instance, Old Norse did not have [dʒ] as in gin, joy or edge, [ʃ] as in she, sure or emotion, [tʃ] as in chair, nature or teach, [z] as in zoo or rose, [ʒ] as in pleasure, vision or beige. To be sure, Old Norse did not have any runes for such sounds as well. So how can we write in English with runes phonetically, if we have no runes for a whole range of phonemes? There is no way to do so. Solution? Keep the standard English spelling.
Of course, there is no generally accepted chart of correspondences between Norse runes and Roman letters, but there are a few rather convincing variants, including my own, which is hardwired into my runic converter.
Substituting runes for letters with a certain degree of authenticity is feasible, whereas substituting runes for modern English phonemes (writing phonetically) is technically impossible if we do not invent additional runes (that is what Anglo-Saxons did adapting the Elder Futhark for their language).
See also:
A Guide to Writing in Norse Runes
How to Translate into Runes Correctly
How to Write an Authentic Runic Inscription
Photo: Alcuin manuscript, 9th century.