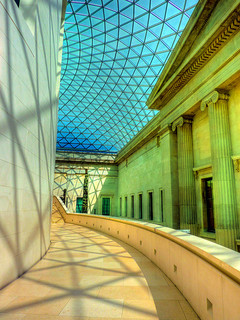 Vikings: Life and Legend will be the first significant exhibition on Vikings organized by the British Museum in about 30 years. The event, starting in March 2014, is supported by BP and will open the Sainsbury Exhibitions Gallery, expressly built to house such temporary activities. The incredibly rich collection of the Viking Age artefacts that will be displayed is from the British Museum's own depository, as well as from other museums in the UK, Ireland and elsewhere. This amazing large-scale Viking event has been developed in partnership with the National Museum of Denmark and the National Museums in Berlin (Staatliche Museen zu Berlin). The exhibition catalogue
, as well as a gift book The Viking Ship
by Gareth Williams are already available.
The idea behind Vikings: Life and Legend is to set in context the developments of the Viking Age (late 8th century to the early 11th). Thousands of new discoveries made by both archeologists and metal-detectorists reveal the Viking identity. Warfare, trade, belief and magic of the Viking Age Norsemen are now understood probably better than ever before.
Central to the exposition is the 37-metre-long Viking warship known as Roskilde 6 that was excavated in Denmark in 1997. It was constructed around AD 1025, and now only about 20% of the original timbers are preserved. The planks came to the British Museum flat-packed and then were assembled along a stainless steel frame reproducing the original size and shape of this largest, probably royal, Viking ship ever found. It might have belonged to king Canute who once subdued lands both in Scandinavia and Britain.
Not every Viking raid on the British soil was successful: the remains from a mass grave of executed Norsemen discovered in 2009 near Veymouth in Dorset will also be part of the exhibition, as well as the Vale of York hoard found by amateur metal detectorists near Harrogate in 2007. Also, the amazing Gnezdovo silver hoard from Russia will be displayed for the first time in the UK. The treasure objects come as far from Afghanistan in the East and Ireland in the West, showing the scale of the Viking trading and raiding activity.
All this sounds like a Viking exhibition one has never seen before. Thank you, the British Museum!
Photo courtesy Temporalata. Used under Creative Commons Attribution-ShareAlike 2.0 Generic Licence.