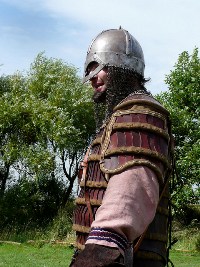 Three years ago I wrote about an untitled Viking project developed by Mel Gibson. Since then many sad things happened; Mr. Gibson's personal life has been widely discussed in the news. Many talked about his pariah status in the Hollywood. The Beaver was not successful. His other recent project, Get the Gringo, went straight to DVD. The Inception star Leonardo DiCaprio refused to work with the Viking project. The Departed screenwriter William Monahan who was supposed to write for it, as it seems, refused to do so as well.
However, the project is still alive. Mr. Gibson will not give up simply because this Viking project has been his dream since he was 16. At that age he first thought about being a filmmaker and it was a Viking movie that he wanted to make. He wanted to make it in Old Norse, which he studied at the time.
Earlier this year Randall Wallace who wrote for the Braveheart was reported to turn in a second draft for this new epic period movie. No horned helmets. No running around like the '50s (Kirk Douglas and Tony Kurtis style). It will be something real and visceral.
Two last directorial projects by Mr. Gibson, The Passion of the Christ and Apocalypto, included English subtitles because the characters spoke the historic languages of the time. This will be the case with the Viking movie, Berserker, too. It will probably include Old English as well, spoken by the Anglo-Saxons.
In 2008, a year before the initial announcement of the Viking project, Mr. Gibson visited Iceland with his two sons. The event was widely reported by the Icelandic media. The filmmaker visited Borgarfjörður and other areas of historical significance. As it was later suggested, the trip might have been the location scouting for the movie. This year Mr. Gibson visited Dublin and scouted locations in Ireland. He spoke to fish farmers and had lunch in Clifden at the Abbeyglen Hotel.
I doubt anyone in the Hollywood or elsewhere could make a Viking movie better than Mel Gibson could. It is a great project. I hope it will be historically accurate and real; but not the way Nicolas Winding Refn's Valhalla Rising was. It was a failure. They spoiled it all.
Until this day, The 13th Warrior has been the only Viking movie that could be counted as comparatively historical (even though full of blatant mistakes) and entertaining. Now something much greater awaits us. Let's be patient. Berserker cannot disappoint us. It will not.
Photo courtesy Steve & Jemma Copley. Used under the Creative Commons Attribution-Share-Alike 2.0 Generic Licence.