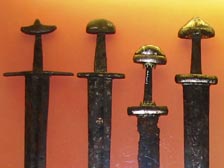 According to a report in The Guardian, published in December 2008, Viking swords in some of the most famous weapons collections are counterfeit. However, the age of the fakes is the same as the one of the genuine swords, about a thousand years. The fact is that the best swords that were used by the Vikings bear the maker's name, Ulfberht, in raised letters at the hilt end. Such swords were made from ingots of crucible steel brought by the Norsemen from far away.
The tests show that high quality steel of the Ulfberht swords is from the mines on the territory of modern Afghanistan and Iran. However, in the 11th century the trade route was blocked by Russians and the supply of steel with high carbon content ended. The demand was huge and soon low quality fakes flooded the Scandinavian market.
In outward appearance they were identical to genuine Ulfberhts and their blades were very sharp. Nevertheless, due to the fact that the carbon content of the steel from which they were forged had only a third of the same in genuine high quality swords, they could fatally disserve Vikings who bought them. The locally worked iron of such inferior swords was hardened by quenching, which made the blade sharp, but also brittle because of the low carbon steel that was used.
The whole point became obvious when a private collector brought a Viking sword to the London museum. Dr. Allan Williams, a consultant to the Wallace collection of that museum, found out that the collector's sword was an ancient fake, whereas the Wallace's was the real McCoy. In collaboration with Tony Fry, a senior researcher at the National Physical Laboratory in Teddington, south-west London, Dr. Williams was able to prove that other famous collections have a few counterfeit Ulfberhts.
Photo: Viking swords displayed at the Wikingermuseum in Haithabu. Courtesy Viciarg. Used under the Creative Commons Attribution 2.5 Generic Licence.