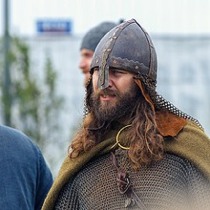 The Old Norse word saga is cognate to English say and German sagen ('say'). Its meaning in Old Norse is 'what is said', 'tale', 'story', or 'narrative'. Classical sagas (known as sagas of Icelanders) constitute a unique literary genre. On the one hand, the original listeners (many researchers believe that sagas had long been transmitted orally) were sure that sagas relate the very words and deeds of their ancestors. On the other hand, the events of the classical sagas took place between the 9th and the 11th centuries, which is at least two centuries earlier than the time they were first written down. It was hardly possible to relate accurately what happened two to four hundred years before that.
It is to note that the past of the inhabitants of Iceland was not distant and obscure: they knew that their ancestors had populated their homeland rather recently, and that the events of the 'taking of the land' (landnám) were still fresh in the memory of the society as a whole. However, it is not clear whether the authors of the sagas believed they simply told what had actually happened, with no fictional details. (It is not even clear if we can talk about the authors of the sagas at all: passing from generation to generation does not allow for the notion of a single author.)
I hope you will like my top ten favorite quotations from sagas. Do not hesitate to share yours in the comments below.
1. One's back is vulnerable, unless one has a brother.
Ber er hver að baki nema sér bróður eigi.
The Saga of Grettir, chapter 82
2. There are more things to be thought of by men than money alone.
En fleira er mönnum til hugganar en fébætur einar.
The Saga of Grettir, chapter 47
3. Never break the peace which good men and true make between thee and others.
Rjúf aldrei sætt þá er góðir menn gera meðal þín og annarra.
The Saga of Njal, chapter 55
4. Old friends are the last to break away.
Langvinirnir rjúfast síst.
The Saga of Grettir, chapter 82
5. With law shall our land be settled, and with lawlessness wasted.
Með lögum skal land vort byggja en eigi með ólögum eyða.
The Saga of Njal, chapter 69
6. There are few more certain tokens of ill than not to know how to accept the good.
Fátt vísara til ills en kunna eiga gott að þiggja.
The Saga of Grettir, chapter 78
7. Where fault can be found, the good is ignored.
Fár bregður hinu betra ef hann veit hið verra.
The Saga of Njal, chapter 139
8. A tale is but half told when only one person tells it.
Jafnan er hálfsögð saga ef einn segir.
The Saga of Grettir, chapter 46
9. No one is a total fool if he can be silent.
Enginn er alheimskur, ef þegja má.
The Saga of Grettir, chapter 88
10. Eyes can not hide a woman's love for a man.
Eigi leyna augu ef ann kona manni.
The Saga of Gunnlaugur the Worm-tongue, chapter 13
For the full texts of the sagas (both in English and Icelandic) see Icelandic Saga Database. Note that all texts are given in normalized modern Icelandic orthography.
Photo courtesy Stefán Freyr Margrétarson. Used under Creative Commons Attribution-NonCommercial-NoDerivs 2.0 Generic Licence.