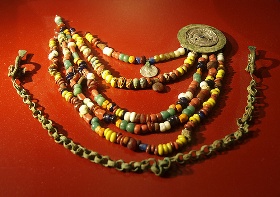 In April 2010 excavations by Dr Marion Dowd at Glencurran Cave, the Burren National Park (Ireland), led to a stunning discovery: a unique Viking necklace estimated to be 1,150-year-old (note that on the picture to the left not the very same necklace is represented, but a typical Viking Age bead necklace exhibited in Roskilde Museum). Necklaces dating to the Viking Age that have been found previously, usually had five to six glass beads, but this one has 71 beads covered with gold foil. This extraordinary item found in the dig funded by the Department of the Environment and the Royal Irish Academy is described by Dr Dowd as a "stunning piece of jewellery". Nothing similar has been discovered in Ireland until now. Viking graves at Kilmainham, Dublin, had only small numbers of beads.
Glencurran cave is in a remote location of the Burren National Park. There are no Viking settlements in this area, so it is a mystery how the necklace that must have belonged to a high status Viking woman came to be lost or hidden there. It is suggested that this might have been a result of trade between Limerick Vikings and Gaelic chieftains. The necklace was perhaps imported from Scandinavia to Ireland in the late 9th or early 10th century.
Glencurran cave also yielded the remains of a small child dating to the Bronze Age (3,500 years ago) and a 10,000-year-old bear shoulder bone.
[custom-related-posts title="Related Posts" order_by="title" order="ASC" none_text="None found"]
Photo: Viking Age bead necklace, Roskilde Museum, Denmark. Courtesy Mararie. Used under Creative Commons Attribution-ShareAlike 2.0 Generic Licence.