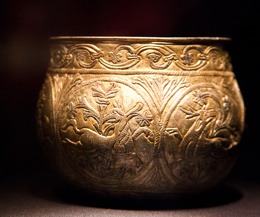 In 2007 a father and son metal detecting team found a major Viking hoard near Harrogate, North Yorkshire. The trove of coins and jewelry, which dates back to the 10th century, was the largest find of such type in Britain since the Cuerdale hoard was discovered in Lancashire in 1840. David Whelan, 60, and his son Andrew, 35, had been metal detecting for about five years on Saturdays as a hobby. Saturday 6th January 2007 they came to a roughly ploughed and fairly muddy field. After half an hour David received an average signal, which improved after a shovel of soil was removed.
About 17 inches underneath the soil they found a bowl (on the photo) with silver coins and scraps poking out. However, metal detectorists did not disturb the cache, which helped preserve important clues as to how and when the treasure had been hidden. David and Andrew agreed they had to inform the land owner and report the find to the local Finds Liaison Officer. A few days later they completed treasure forms and the hoard was transported to the British Museum.
X-rays of the bowl's content showed a mixture of coins and hack silver, but nothing could be guaranteed until it was emptied. During the following month the items were gradually removed from the hard-packed earth that filled the bowl. The results were astonishing: the hoard contained 617 silver coins, including several new or rare types, from as far as Samarkand in central Asia, Afghanistan, Russia, Scandinavia and North Africa.
Barry Ager, Viking curator of the British Museum, commented: "One coin is inscribed Rex Totius Brittaniae, which means king of the whole of Britain. It is the first time a king had been claiming to be king of the whole of Britain." The treasure also contained 65 other objects. Among them a rare gold arm-ring possibly made in Ireland should be noted, as well as various dress ornaments, silver rings and brooches. The silver vessel itself, lined with gold and engraved with lions and deer, once belonged to a church in northern France and held the communion bread. It was possibly looted by Vikings or given to them as a tribute.
It is suggested that the Harrogate hoard was buried for safety by a wealthy Viking leader during the unrest following the conquest of the kingdom of Northumbria (dominated by Vikings since AD 869) by the Anglo-Saxon king Æthelstan in AD 927. After Æthelstan's death in 939 AD the area had another period of Viking rule, until Eric Bloodaxe, king of Jorvik, died in AD 954.
In July 2007 the Harrogate find was declared as a treasure at a court hearing. It has to be valued by the Independent Treasure Valuation Committee. The British Museum is looking to raise the funds to purchase the collection. In case it happens, the proceeds would be split between the finders and landowners. According to estimates, the hoard may be worth up to £ 1 million. When asked how they would spend the money, Andrew Whelan said: "Being fairly cautious Yorkshire people, we won't go and buy a sports car or anything like that." In another interview Whelan also commented: "If we hadn't found it, we would've still been going. We just keep going, we enjoy it."
In Great Britain, the following finds are treasure under the Treasure Act, and must be reported. Objects other than coins: any object other than a coin provided that it contains at least ten per cent of gold or silver and is at least 300 years old when found. All coins from the same find provided they are at least 300 years old when found. Single coins found on their own are not treasure. Any object, whatever it is made of, that is found in the same place as, or that had previously been together with, another object that is treasure.
The British Museum runs the Portable Antiquities Scheme, a national network of 36 Finds Liaison Officers who record the finds and help to report them as required by the Treasure Act. Their online database contains details of over 175,000 reported objects.
Photo: Harrogate hoard silver pot. Courtesy Alh1. Used under the Creative Commons Attribution-NoDerivs 2.0 Generic Licence.