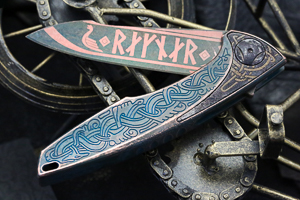 The Viking Rune is starting its own line of Viking themed products. Our first project is a high-quality custom knife Ragnar. Relic style hand-made customisation is applied to each piece individually. The order form is below. Price: 1390 US dollars. Payments via PayPal.
UPDATE: SOLD OUT
Amazing quality: awesome custom knife with Titanium handle and M390 steel blade.
Perfect usability: it is not a plaything. You will enjoy using this custom knife created to perform.
Runic design: the knife bears Old Norse inscriptions in long branch Younger Futhark runes.
Hand-made customisation: laser engraving, anodising, oxidizing, sand, stonewash, cuprum style and relic style.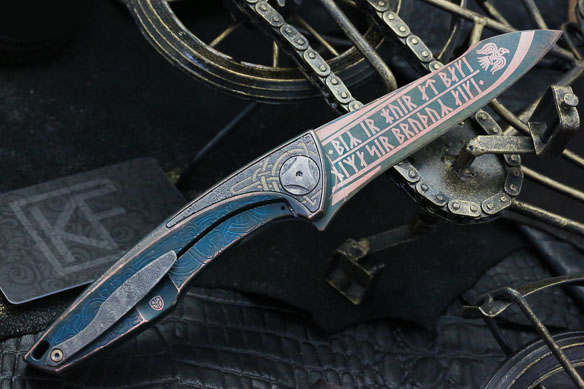 Historically accurate design includes the name Ragnar in Viking Age runes. The other side of the blade is engraved with the inscription: 'One's back is vulnerable, unless one has a brother' (in Old Norse), which is a quote from Njal's Saga. Strapwork ornament of the handle is in line with the Urnes style (characteristic for the Viking Age art). Blade design also includes the shape of a Viking warship and an image of raven from the so called Raven Penny, a coin of the Viking king Olaf who was the ruler of Dublin in the 10th century. Cuprum style customization of the blade is inspired by the Thames scramasax (aka seax of Beagnoth).


Ragnar custom knife specifications:
Overall Length: 8.582″ (219mm)
Blade Length: 3.661″ (93mm)
Cutting Edge: 3.543″ (90mm)
Blade Thickness: 0.154″ (3.9mm)
Blade Material: M390
Edge Type: Plain
Pivot: Bearings
Handle Length: 4.96″ (126mm)
Handle Thickness: 0.511″ (13mm)
Handle Material: Ti
Frame Material: Ti (hardened)
Weight: 4.94 oz. (140gr)
User: Right Hand
Pocket Clip: Tip-Up
Knife Type: Manual
Opener: Flipper
Lock Type: Frame Lock
Brand: Custom Knife Factory (CKF)