Three interlocked drinking horns is an important Norse Viking symbol. It seems to be closely related the Valknut and Triquetra and is often referred to as the Horn Triskelion. A triskelion (or triskele) is a symbol with threefold rotational symmetry (such symmetry means that a figure, which has it, looks the same after a certain amount of rotation). Translated from Greek the word triskelion means 'three-legged'. The Horn Triskelion symbolizes Odin: to obtain the mead of poetry (skáldskaparmjöðr) he bargained three nights with the giantess Gunnlöð for three sips of the mead. However, with each sip he drank a whole horn. Since the three horns he drank contained the whole of the mead, Odin thus got all of it and fled in the shape of an eagle.
The horns' names were Óðrœrir, Boðn and Són. These three horns contained the mead since the time when the dwarves Fjalar and Galar killed a wise man called Kvasir created from the spittle of Æsir and Vanir. There were no questions Kvasir could not answer. The two dwarves killed him, mixed his blood with honey and poured the beverage into Óðrœrir, Boðn and Són. In Norse Viking mythology the mead of poetry is a symbol of wisdom and poetical inspiration. According to the Prose Edda, whoever drinks it becomes a skald or scholar.
The symbol of the three interlocked horns appears on the Snoldelev rune stone (DR 248). Beside the horns it has an interesting runic inscription:

kunualts stain sunaR
ruhalts þulaR o salhauku
'Gunnvaldr's stone, Hróaldr's son, reciter of Salhaugar'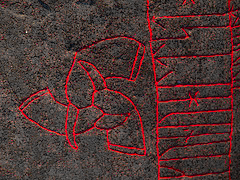 This inscription uses an early version of the Younger Futhark. The a-rune here has the same form as the h-rune in the Danish variant of the Younger Futhark (Star-rune). The h-rune is from the Elder Futhark rune row. Salhaugar probably refers to modern Salløv, which is not far from the place where the stone was found.
Very interesting is the word þulaR, 'thul' or 'reciter'. It is akin to OE þyle, 'orator, spokesman' (the word designated a position of the court associated with Scandinavian and Anglo-Saxon royalty). The 'thul' mentioned in the Snoldelev inscription seems to be a dignifying term pointing to a leader, probably a priest, chieftain or law-man. Jan de Vries interpreted thul as a a person who carried with him all the treasure of magical and mythical knowledge. Three horns of Odin, the Norse symbol of wisdom and inspiration, would be an appropriate sign for such an office in the ancient Germanic society.
In modern times the Horn Triskelion is often interpreted as pointing to Norse heathen convictions and sometimes used in Norse Viking tattoo designs.
Photo courtesy Mararie. Used under Creative Commons Attribution-ShareAlike 2.0 Generic Licence.